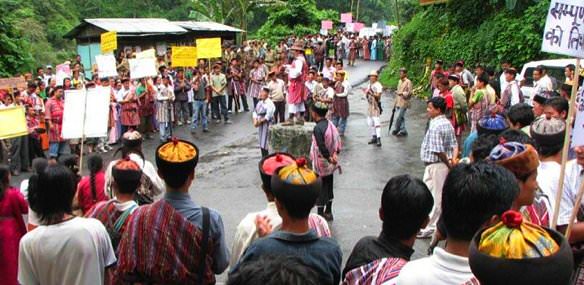 Affected Citizens of Teesta (ACT) - Action!
ONLINE PETITIONS
Make Teesta Dam Project Sustainable
Save the vanishing Tribe, save the Lepchas of Sikkim
PETITION: SIKKIM UNDER ATTACK
June 2011: The tiny eastern Himalayan state of Sikkim, known for its stunning forest vistas and amazing biodiversity, is under threat from the cumulative impacts of close to 30 large hydroelectric projects. While several are already under construction or completed, many more are at various stages of clearance.
Most of the so called 'run-of-the-river' hydroelectric projects being developed involve large dams which divert the river waters through long tunnels, before the water is dropped back into the river at a downstream location after passing through a powerhouse. These projects are promoted as being 'environmentally benign' as they involve smaller submergences and lesser regulation of water as compared to conventional storage dams. This perception conveniently ignores the impact of several features intrinsic to this design. For example, long stretches of the river will be bypassed between the dam and powerhouse, with up to 85 – 90 per cent of the flow in the winter (lean season) diverted through the tunnels. In the already commissioned 510 MW Teesta V project in Sikkim, the 'head race tunnel' taking the water from the dam to the powerhouse is 18.5 km. long and bypasses a 23 km. length of the river. Not only will this destroy riverine ecology but a cascade of projects will mean most of the river would essentially end up flowing through tunnels. The Affected Citizens of Teesta have aptly described this saying, "Our sacred Teesta is being converted into an underground river."
These projects also involve extensive tunneling in a geologically fragile landscape, the environmental and social impacts of which are grossly underestimated. Impacts observed include cracks in houses above long tunnel alignments, drying up of water resources and major landslides. The list of project-affected-persons is clearly much longer than what is calculated at the planning stage which only looks at those whose lands are to be directly acquired for the project. The tunneling also generates a huge quantity of muck and rock debris, the disposal of which is a huge challenge. Power companies in Sikkim have earned themselves the name uttani musa (mountain mouse in the Nepali language) for digging the insides of the mountains. The indiscriminate dumping of massive quantities of excavated muck in steep eastern Himalayan valleys with little available flat land is a gross environment violation. This is a fact corroborated by the Comptroller and Auditor General (CAG) of India in a 2009 report on Sikkim.
Strong protests have taken place in Sikkim over the last decade including a three-year long satyagraha from June 2007. Concerns include the serious ecological impacts on the fragile Khangchendzonga landscape and the Teesta river and the socio-cultural impacts due to the influx of large labour populations, particularly on the vulnerable Lepcha tribe and their home, Dzongu, a protected reserve in north Sikkim. While the state government did scrap a few of the small projects, many of the bigger, potentially destructive projects, are still being pushed aggressively. A worrying aspect has been how the Ministry of Environment and Forests (MoEF) has handled environmental governance issues. For example, stretches of the Teesta river north of Chungthang were declared a 'no-go' area for dams in October 2008 after a detailed carrying-capacity study of the river basin but the restriction was subsequently overturned in November 2010!
A large number of projects in west and north Sikkim are also in close proximity of the Khangchendzonga National Park (KNP) – at least 10 within a five kilometre radius and, in fact, also inside the larger area of the Biosphere Reserve (an Important Bird Area and a proposed World Heritage Site). While the Standing Committee of the National Board for Wildlife (NBWL) did reject the 96 MW Lethang project in west Sikkim, many other projects such as the 1200 MW Teesta III and 300 MW Panan in north Sikkim have not come up for discussions even though they are either under full-scale construction or under ancillary development for several years! For example, the 1200 MW Teesta III project is under construction for over three years without wildlife clearance from the NBWL. A serow Capricornis sumanntraensis, a Schedule I species, was killed on June 4, 2008 at the project site but the company was let off with a small fine.
Keeping this in mind, the following actions are required urgently:
A moratorium on large hydroelectric projects within a 10 km. radius of the KNP unless prior clearance has been sought from the Standing Committee of the NBWL. Construction of projects such as 1200 MW Teesta III which have not received wildlife clearance should be suspended immediately. Projects should be evaluated in terms of their individual and cumulative impacts on KNP.
Restoration of the October 2008 order to declare the area north of Chungthang in north Sikkim as a 'no-go' area for large hydroelectric projects as per the carrying capacity study of the Teesta river basin.
A cumulative impact assessment of projects coming up in the Rangit river basin in west Sikkim. The Rangit, a sub-basin of the Teesta, was not included in the earlier carrying capacity study of the Teesta river basin. Individual clearances should be considered only after such a study is completed first. Such a move will also be consistent with an April 2007 order of the National Environmental Appellate Authority which asked for such studies.
Respecting the sentiments of the Lepcha community, no more projects should be allowed in Dzongu. These include both the 300 MW Panan and 500 MW Teesta IV projects.
Courtesy: Tseten Lepcha (Affected Citizens of Teesta) and Neeraj Vagholikar (Kalpavriksh)
Source: Sanctuary Asia
Write to the Minister of Environment and Forests, the Chief Minister, Minister of Power and the Minister of Water Resources!

JAIRAM RAMESH
Ministry of Environment and Forests
Paryavaran Bhavan,
CGO Complex, Lodhi Road,
New Delhi – 110 003.
Tel.: +91–11– 24360721.
E-mail MoEF

PAWAN CHAMLING
Chief Minister
Chief Minister's Secretariat,
Tashiling, Gangtok,
Sikkim.
Tel.: 03592 – 202575.
E-mail CM


SHRI SUSHIL KUMAR SHINDE
Minister of Power
Room No. 209,
Shram Shakti Bhawan,
Rafi Marg,
New Dehli – 110001.
Tel.: 3714842.

SALMAN KHURSHID
Ministry of Water Resources
Shram Shakti Bhavan,
Rafi Marg, New Dehli – 110001.
Tel.: 23717129, 23719816,
Fax : 23710253.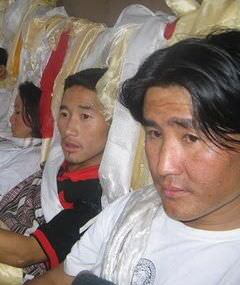 | SATYAGRAHA |
Warriors for a Cause
"I will die but won't allow the mega power projects in Dzongu" - Dawa Lepcha.
Two Lepcha youths from Dzongu rocked the state of Sikkim and the world with their selfless stand against the hydro projects. Dawa T. Lepcha and Tenzing Lepcha went on hunger strike in the spirit of Gandhian Satyagraha from June 22, 2007 to September 27, 2009.
Chronicles of the campaign - and more - at
| TEESTA |
Will the Teesta river survive? In order to construct one kilometer of tunnel, approximately 150 tons of dynamite are required. Imagine how much blasting will be done for 30 power projects! Seventy percent of the river to flow underground!
| DZONGU |
Dzongu in North Sikkim is the holy place for Lepchas spread all over the world. Process has begun for seven mega power projects spanning the length and breadth of this protected area.
| ENVIRONMENT |
Environment Impact Assessment (EIA)
Blatant violations of procedural and environmental norms. Get the distressing facts at our EIA-page.
| TEESTA STAGE V |
Much went wrong during design, assessment and construction of Teesta Stage V HEP. For a truly sustainable and adapted development, a different approach is required.
| VIOLATIONS |
Environment Protection Act (EPA) as well as Forest Conservation Act (FCA) were repeatedly violated by the companies involved. A non-exhaustive listing for Teesta Stage V only (NHPC).
| DOCUMENTS |
• Statements, appeals and proceedings by ACT
• Scientific papers substantiating ACT's concerns
• Press reports covering disproportionate projects in Sikkim and ACT's struggle for protection
| MEDIA |
• Photo-Galleries
• Collection of Documentaries
Lepchas - A vanishing Tribe

© Affected Citizens of Teesta 2007 - 2013 :: Website maintained by Tseten Lepcha, Working President ACT.
NGOs supporting ACT: Concerned Lepchas of Sikkim (CLOS) - Sangha of Dzongu (SOD) - Citizens Forum of Sikkim (CFS) - Sikkimese Association for Environment
While all the organizations supporting ACT share the common goal of protecting the environment, individual groups can, and sometimes do, differ in their approaches to specific issues highlighted above. The stand taken by ACT does not necessarily includes of everybody in Sikkim and other parts. If anyone wishes to differ, they are welcomed to put forward their views, comments and disagreements to info@actsikkim.com. Everybody is welcome!