Affected Citizens of Teesta (ACT) - Projects
SIMPLICITY OR COMPLICITY?
At the moment, the total capacity of power projects in Dzongu is 1012 MW. Sikkim still has 4000+ MW for its revenue generation!

If we go on with these power projects, the cradle of Lepcha civilization and identity of Sikkim will be diluted and all laws under Article 371 F violated.

Though companies like Himagiri (Panan) have not produced even one Watt of electricity, the Government of Sikkim has awarded them a project with a capacity of 280 MW. This is an invasion from Hyderabad!

How did it happen?

One can safely say that the Government of Sikkim during the whole planning and implementation of hydro-electric projects in the Teesta basin has sided with large companies from outside and taken against the prosperity of the state and its population in general and against the indigenous people and their chartered rights in particular.

This is backed by the findings of the Comptroller and Auditor General of India (CAG) in a 2009 report on Sikkim:
The State Government had not finalised and notified private power policy as of September 2009 although the Administrative Staff College of India had prepared the draft private power policy for the State as early as September 2003.
Award of two projects to Gati Infrastructures Ltd (November 2003) and two other projects to National Hydroelectric Power Corporation (March 2006) at a comparative low rate of 12 per cent royalty for the entire agreement period may lead to a potential loss of Rs. 143.50 crore per year from the 16th year of operation onward.
Imposition of upfront premium at a meagre rate of Rs. 10,000 per MW would lead to a reduction in revenue ranging between Rs. 60,08 crore and Rs. 279,87 crore as compared to other states like Himachal Pradesh (HP), Jammu & Kashmir (J&K), Uttarakhand and Arunachal Pradesh.
Due to imposition of penalty at an abysmal low rate of Rs. 10,000 per MW per month for delay in commissioning of projects, the State stood to loose between Rs. 2,514,40 crore and Rs. 2,622,76 crore per year as compared to Uttarakhand, HP and J&K and Rs. 137,08 crore per year as compared to Arunachal Pradesh.
Non-imposition of specific condition for regular contribution towards local area development on 16 developers led to a loss of Rs. 245,20 crore annually.
Adequate steps to safeguard the environment viz. catchment area treatment plans, protection and preservation of riverine fishes etc. has not been taken during implementation of hydro power projects.
Regular monitoring and vigil to ensure proper execution of the projects by the developers was virtually non-existant.
Read the related chapter of CAG's Audit Report (Civil), Sikkim for the Year 2008-2009 in its entirety at our Documents section.
BACKGROUND OF HYDRO POWER INITIATIVES
The Central Electricity Authority after its 2001 preliminary ranking study of the hydroelectric potential of river basins in India launched a hydro power initiative to produce 50,000 mega Watt of electricity. Twenty one hydro electric power projects were identified to be developed in Sikkim.

Six Projects have been envisioned on Teesta in Sikkim out of which Stages I-IV are in North Sikkim. The Teesta HEP Stage V (510 MW) was the first to be taken up in the six stage 'cascade' plan to harness 3635 MW of hydropower, all within 175 kms of the river Teesta in Sikkim which is located in North and East Districts and is already nearing completion stage. Stage VI (500 MW) will be located further downstream in East and South Districts.

Two more projects are coming up in West Bengal-The Teesta Low Dam III and IV, out of which one is already under construction. Further, various projects are been planned on the tributaries of the Teesta in North Sikkim with at least 7 small and big projects in Lepcha reserve of Dzongu with Panan HEP being of 300 MW.

The State Government will be given 12% of total power generated by the projects.

The arguments used to justify large projects in the Sikkim are the exploitation of the state's perennial water system to produce cheap, plentiful power for the nation, economic benefits through power export, employment generation, flood control and little direct 'displacement' of local communities. However, several unique features of the State- the geological fragility and seismic activity, the unique tribal communities and their cultural and spiritual association with river systems, their traditional natural resource-based livelihoods, and the biodiversity richness of the area pose a challenge to the conventional dam-building wisdom.

Besides, the mismanagement, general apathy to sentiments of the people and total disregard to the conservation of the fragile eco-system in process of implementing various so called "developmental projects", like the Teesta Hydro Electric Power Project Stage V, Rangit HEP and other projects undertaken by the Border Roads Organization, the different wings of the Armed Forces and other projects have created a permanent dislike and fear psychosis amongst the people who get exploited time anagain without any proper forum to redress their grievances.

In spite of this, the Government of Sikkim has accorded letter of intent and signed MOUs with various central Government Undertakings and Private Power Producers to start the process of building these projects. And such it have become imperative that some urgent measures are adopted before these destructive "Developmental Projects" are permitted to be implemented and once again the saga of exploitation is repeated.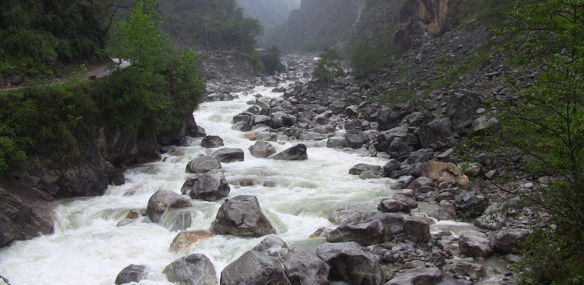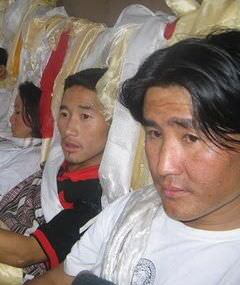 | SATYAGRAHA |
Warriors for a Cause
"I will die but won't allow the mega power projects in Dzongu" - Dawa Lepcha.
Two Lepcha youths from Dzongu rocked the state of Sikkim and the world with their selfless stand against the hydro projects. Dawa T. Lepcha and Tenzing Lepcha went on hunger strike in the spirit of Gandhian Satyagraha from June 22, 2007 to September 27, 2009.
Chronicles of the campaign - and more - at
| TEESTA |
Will the Teesta river survive? In order to construct one kilometer of tunnel, approximately 150 tons of dynamite are required. Imagine how much blasting will be done for 30 power projects! Seventy percent of the river to flow underground!
| DZONGU |
Dzongu in North Sikkim is the holy place for Lepchas spread all over the world. Process has begun for seven mega power projects spanning the length and breadth of this protected area.
| ENVIRONMENT |
Environment Impact Assessment (EIA)
Blatant violations of procedural and environmental norms. Get the distressing facts at our EIA-page.
| TEESTA STAGE V |
Much went wrong during design, assessment and construction of Teesta Stage V HEP. For a truly sustainable and adapted development, a different approach is required.
| VIOLATIONS |
Environment Protection Act (EPA) as well as Forest Conservation Act (FCA) were repeatedly violated by the companies involved. A non-exhaustive listing for Teesta Stage V only (NHPC).
| DOCUMENTS |
• Statements, appeals and proceedings by ACT
• Scientific papers substantiating ACT's concerns
• Press reports covering disproportionate projects in Sikkim and ACT's struggle for protection
| MEDIA |
• Photo-Galleries
• Collection of Documentaries
PROJECTS IN NORTH SIKKIM
Teesta Stage I (280 MW) - SCRAPPED
Teesta Stage II (330 MW) - Him Urja
Teesta Stage III (1200 MW) - Teesta Urja
Teesta Stage V (510 MW) - NHPC
Lachen (210 MW) - NHPC
Thangchi Lachung (99 MW) - SCRAPPED
Chakung Chu (50 MW) - SCRAPPED
Bimkyong (99 MW) - SCRAPPED
Bop (99 MW) - SCRAPPED
PROJECTS IN DZONGU
Panan (280 MW) - Himagiri Hydro Engery
Ringpi (70 MW) - SCRAPPED
Rukel (33 MW) - SCRAPPED
Rangyong (141 MW) - SCRAPPED
Lingza (120 MW) - SCRAPPED
Teesta Stage IV (520 MW) - NHPC
PROJECTS IN REST OF SIKKIM
Teesta Stage VI (500 MW) - Lanco Energy
Rongnichu (96 MW) - Madhya Bharati
Sada-Mangder (71 MW) - SCRAPPED
Chuzachen (99 MW) - Gati Infrastructures
Bhasmey (52 MW) - Gati Infrastructures
Rolep (36 MW) - SCRAPPED
Ralong (40 MW) - SCRAPPED
Rangit II (66 MW) - Sikkim Hydro Ventures
Rangit IV (120 MW) - Jal Power Corporation
Dikchu (96 MW) - Sneha Kinetic
Jorethang Loop (96 MW) - DANS Energy
Ting Ting (99 MW) - SCRAPPED
Ratey Chu-Bakcha Chu (40 MW) - SCRAPPED
Tashiding (97 MW) - Shiga Energy
Lethang (96 MW) - SCRAPPED
Rangit III (60 MW) - NHPC
Suntaley Tar (40 MW) - Shreya Powertech
TOTAL CAPACITY - 5144 MW