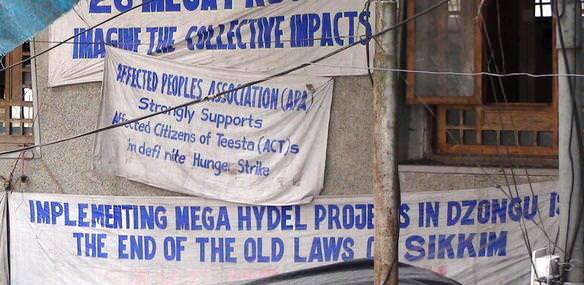 Affected Citizens of Teesta (ACT) - Documents
APPEALS, PETITIONS, PRESS RELEASES
Petitions:
Letter of Tseten Lepcha to Jayanti Natrajan (March 2013)

Memorandum of SANDRP and 80 other NGOs to the MoEF (August 2012)

Letter of affected people in Chungthang and Shipgyer to Teesta Urja (November 2011)

Memorandum of Appeal to the National Environmental Appelate Authority

Petition from the Affected Citizens of Teesta to the Government of India

Appeal from the Affected Citizens of Teesta to the Sikkim Panchayat Members

Letter from the Indigenous Lepcha Tribal Association to the Chief Minister of Sikkim

Letter from the Affected Citizens of Teesta to the Chief Secretary of Sikkim

Resolution and letter from the Affected Citizens of Teesta to the Chief Secretary of Sikkim
Press Releases:
Press Release CLOS 24th September 2011

Press Release ACT 19th July 2011

Press Release ACT 13th October 2010

Press Release ACT 4th July 2009

Press Release SANDRP 15th June 2009

Press Release ACT 10th April 2009

Press Release ACT 12th February 2009

Press Release ACT 8th February 2009

Press Release JAC 6th December 2007

Press Release JAC 5th December 2007

Press Release JAC 17th October 2007

Press Release ACT 22nd July 2007
Press Release ACT 23rd June 2007
CAG AUDIT REPORT
Comptroller and Auditor General of India: Audit Report (Civil), Sikkim for the Year 2008-2009
SCIENTIFIC PAPERS
Payal Banerjee and Atul Sood:
Economic Growth, Social Divides and Sustainable Development:
Making Development Work, Lessons from the Indian Experience (October 2011)
Kerry Little:
From the Villages to the Cities: The Battlegrounds for Lepcha Protests (June 2010)

Democracy reigns supreme in Sikkim?
A long march and a short visit strains democracy for Lepcha marchers in Sikkim (May 2010)

Deep Ecology, Dams, and Dzonguland
Lepchas Protest Narratives about their threatened Land (2009)

Lepcha Narratives of their threatened sacred Landscapes (February 2008)
Vibha Arora:
Gandhigiri in Sikkim (September 2008)

Unheard Voices of Protest in Sikkim (August 2007)

Roots and the Route of Secularism in Sikkim (September 2006)

The Forest of Symbols Embodied in the Tholung Sacred Landscape of North Sikkim, India (March 2006)
Manju Menon and Neeraj Vagholikar:
Environmental and social impacts of Teesta V hydroelectric project: An investigation report (May 2004)
REPORTS
Interview: Tseten Lepcha, Sikkim NOW!, April 29, 2012

The sacred will be dammed. That's the fear in Sikkim, by Sai Manish, Tehelka, February 2012

The gods must be angry, by Shailendra Yashwant, Infochange News & Features, January 2012

Inducing Vulnerabilities in a Fragile Landscape, by Kanchi Kohli, Economic & Political Weekly, Dec 2011

A Paradise Dammed, by Sai Manish, Tehelka, September 2011

Hydro-Power projects a boon or bane for Sikkim?, by D. B. Rai, Eastern Panorama, August 2011

Once there was a River, by Soumik Dutta, Media Voice, June 2011

Sikkim dams on the horizon, by Kanchi Kohli, Civil Society, April 2011

Damming and damning the Teesta, by Kanchi Kohli, IndiaTogether, June 2010

Teesta's Tears, by Dionne Bunsha, The Hindu, June 2008

God's own Garden in Peril, by Avilash Roul, EcoWorld, December 2007

Dammed in, by Neeraj Vagholikar, The Hindu, December 2007

Lepcha v hydropower, by Soumik Dutta, Himal Southasian, September 2007

Taming the Teesta, by Dr. Kalyan Rudra, The Ecologist Asia, Spring 2003
CARRYING CAPACITY STUDY OF TEESTA BASIN IN SIKKIM
Centre for Inter-disciplinary Studies of Mountain & Hill Environment (CISHME), University of Delhi, 2007
Introductory Volume - Vol. I (267 pp., 45 MB)

Land Environment - Geophysical Environment - Vol. II (272 pp., 30 MB)

Land Environment - Soil - Vol. III (529 pp., 17 MB)

Water Environment - Vol. IV (432 pp., 6 MB)

Air Environment - Vol. V (191 pp., 7 MB)

Biological Environment - Terrestrial and Aquatic Resources - Vol. VI (332 pp., 5 MB)

Biological Environment - Faunal Elements - Vol. VII (169 pp., 3 MB)

Biological Environment - Food Resources - Vol. VIII (139 pp., 2 MB)

Socio-economic Environment - Vol. IX (222 pp., 12 MB)

Socio-cultural Environment - Vol. X (203 pp., 2 MB)

Executive Summary and Recommendations (295 pp., 10 MB)
Note:
While the documents listed here were generally processed into accessible pdf files complying with the requirements of screen readers and Braille displays, this does not apply for the Carrying Capacity Study.
We beg the pardon of our visually impaired visitors. We simply do not have the resources required for the revision of a tome consisting of more than 3000 pages.
In case your assistive technologies face any difficulty with the other documents or any of our web pages, we are grateful for a short pointer to the Webmaster.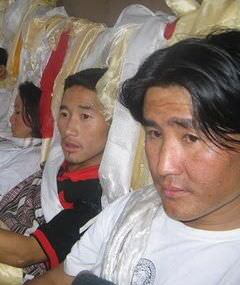 | SATYAGRAHA |
Warriors for a Cause
"I will die but won't allow the mega power projects in Dzongu" - Dawa Lepcha.
Two Lepcha youths from Dzongu rocked the state of Sikkim and the world with their selfless stand against the hydro projects. Dawa T. Lepcha and Tenzing Lepcha went on hunger strike in the spirit of Gandhian Satyagraha from June 22, 2007 to September 27, 2009.
Chronicles of the campaign - and more - at
| TEESTA |
Will the Teesta river survive? In order to construct one kilometer of tunnel, approximately 150 tons of dynamite are required. Imagine how much blasting will be done for 30 power projects! Seventy percent of the river to flow underground!
| DZONGU |
Dzongu in North Sikkim is the holy place for Lepchas spread all over the world. Process has begun for seven mega power projects spanning the length and breadth of this protected area.
| ENVIRONMENT |
Environment Impact Assessment (EIA)
Blatant violations of procedural and environmental norms. Get the distressing facts at our EIA-page.
| TEESTA STAGE V |
Much went wrong during design, assessment and construction of Teesta Stage V HEP. For a truly sustainable and adapted development, a different approach is required.
| VIOLATIONS |
Environment Protection Act (EPA) as well as Forest Conservation Act (FCA) were repeatedly violated by the companies involved. A non-exhaustive listing for Teesta Stage V only (NHPC).
| DOCUMENTS |
• Statements, appeals and proceedings by ACT
• Scientific papers substantiating ACT's concerns
• Press reports covering disproportionate projects in Sikkim and ACT's struggle for protection
| MEDIA |
• Photo-Galleries
• Collection of Documentaries
Lepchas - A vanishing Tribe

© Affected Citizens of Teesta 2007 - 2013 :: Website maintained by Tseten Lepcha, Working President ACT.
NGOs supporting ACT: Concerned Lepchas of Sikkim (CLOS) - Sangha of Dzongu (SOD) - Citizens Forum of Sikkim (CFS) - Sikkimese Association for Environment
While all the organizations supporting ACT share the common goal of protecting the environment, individual groups can, and sometimes do, differ in their approaches to specific issues highlighted above. The stand taken by ACT does not necessarily includes of everybody in Sikkim and other parts. If anyone wishes to differ, they are welcomed to put forward their views, comments and disagreements to info@actsikkim.com. Everybody is welcome!